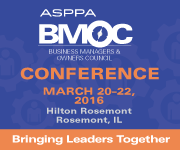 National Harbor, MD — The American Society of Pension Professionals & Actuaries announced five annual industry
awards
during the Oct. 18 opening session of the 2015 ASPPA Annual Conference in National Harbor, Md.
Harry T. Eidson Founders Award
The 2015 Harry T. Eidson Founders Award was presented to Dallas Salisbury, President and CEO of the Employee Benefit Retirement Institute (EBRI).
Salisbury, the only head EBRI has had since it was launched in 1978, will relinquish his position at the end of the year and become EBRI's president emeritus. He has written and lectured extensively on benefits and economic security topics, and has served on numerous advisory groups and
boards
, including the U.S. Department of Labor's ERISA Advisory Council and the Pension Benefit Guaranty Corp.'s advisory committee.
ASPPA established the
Eidson Award
in 1995 to honor the memory of its founder, Harry T. Eidson. His belief in the importance of the employer-sponsored retirement system in the United States and in having an organization dedicated to preserving and enhancing such a system was the inspiration for the formation of ASPPA in 1966. Each year, ASPPA honors one or two individuals for their contributions to the industry. Recipients can be members of ASPPA or from outside the association's membership.
Edward E. Burrows Distinguished Achievement Award
Larry Deutsch, FSPA, MAAA, EA, is the recipient of the 2015 Edward E. Burrows Distinguished Achievement Award. Deutsch, President of Larry Deutsch Enterprises and Owner of Penguin Consulting and Design, Ltd., received the award at this year's ASPPA College of Pension Actuaries (ACOPA) annual meeting on
Aug. 8
.
Deutsch has been an Enrolled Actuary and member of ASPPA for more than three decades. He has served in many volunteer capacities, including the ASPPA Board of Directors and Government Affairs Committee, the American Academy of Actuaries and Actuarial Standards Board Pension Committees, and the EA-2 Exam writing committee. Deutsch is a frequent speaker at ASPPA, ACOPA and other actuarial conferences, and hosts an annual Non-Discrimination Testing Symposium that is attended by TPAs and actuaries from all over the country.
The
Edward E. Burrows Distinguished Achievement Award
is presented annually to a pension actuary who has, by his or her actions, set an example for other pension actuaries. This is an actuary who has gone above and beyond in forwarding ethics, education, beneficial legislation or regulations (or such other actions as the selection committee deems appropriate) that enhance the private pension system or the professionalism of enrolled actuaries within the private pension system. Burrows was a beacon in this regard, and ACOPA honors him by presenting an award that recognizes those who follow in his path.
Educator's Award
The 2015 Educator's Award was presented to Kevin Donovan, CPA, MSPA, managing member and founder of Pinnacle Plan Design, LLC.
Donovan is a leading Enrolled Actuary and educator in the pension field, specifically in the area of cash balance plan design and administration. He has served on ASPPA's Board of Directors and Government Affairs Committee, and is a founding member of the ASPPA College of Pension Actuaries (ACOPA).
The
Educator's Award
was established in 1997 to recognize and honor outstanding educators. It is awarded to an ASPPA member who has made a significant contribution to retirement plan education.
Martin Rosenberg Academic Achievement Awards
ASPPA honored Jacob M. Davis, QKA, and Hans E. Jones, QPA, QKA, with the 2015 Martin Rosenberg Academic Achievement Award. Davis is being honored for receiving a perfect score and outstanding performance on the Fall 2014 DC-1 Exam, and Jones is being honored for outstanding performance on the Spring 2015 DB Exam.
The Martin Rosenberg Academic Achievement Awards are presented in honor of the late Martin Rosenberg, a Fellow of ASPPA, and are designed to recognize top performing examination candidates based upon their total score as well as their overall exam performance. The ASPPA Pension Education and Research Foundation (PERF) administers the award, which ASPPA established in 1990.

PenChecks Trust/ASPPA QKA Scholarship Endowment

Four PenChecks Trust/ASPPA QKA Scholarships were awarded to individuals interested in pursuing ASPPA's Qualified 401(k) Administrator (QKA) credential. The scholarships will cover the QKA exam registration fees, related exam publications and the awardee's first year of membership dues. The 2015 scholarship recipients are:
• Suzie Andersen, Benefit Resources, Inc.
• Taylor Clark, Pensionmark Retirement Group
• Shantell Richarson, Retirement Strategies, Inc, and
• Christopher Mathys, National Associates, Inc.