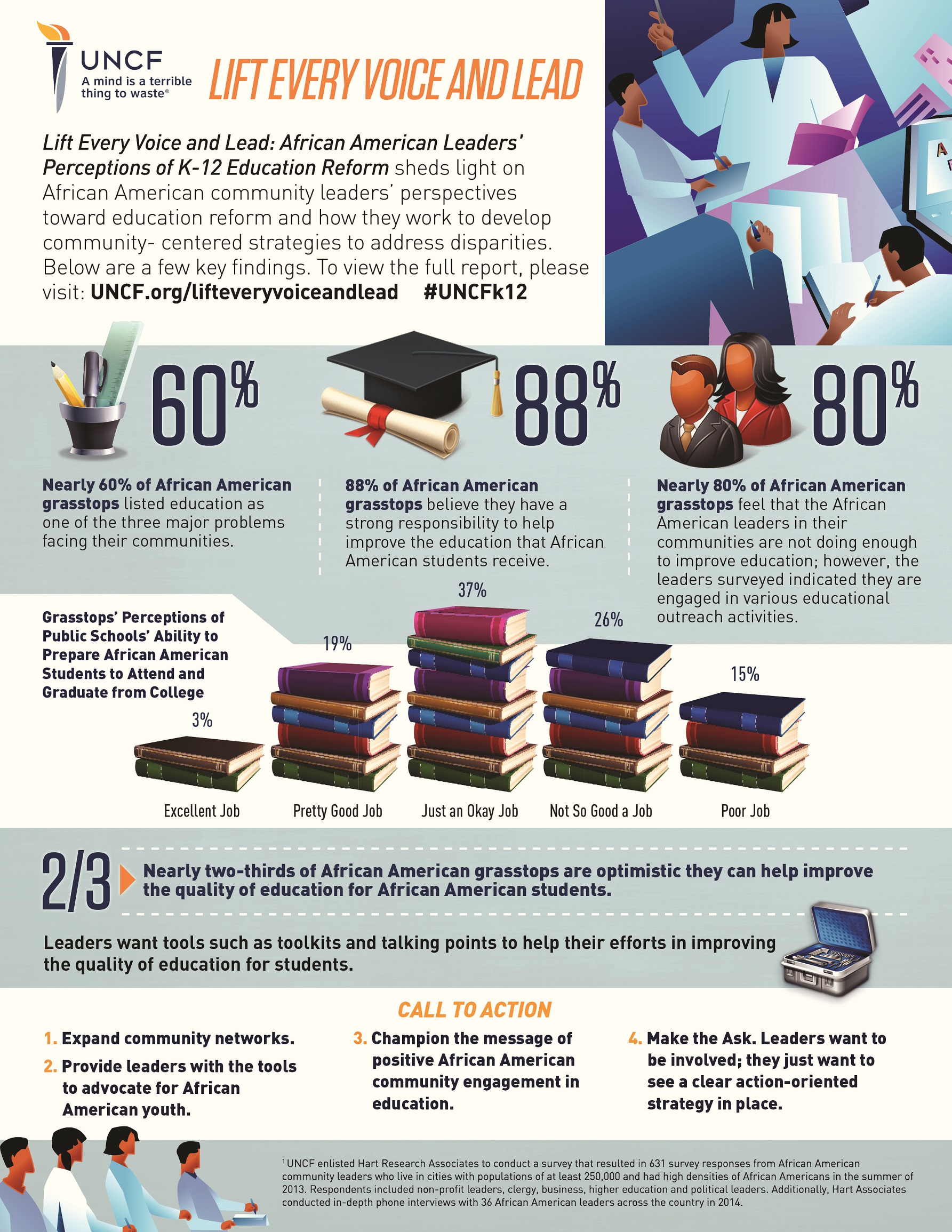 New report by the Frederick D. Patterson Research Institute explores African American community leaders' perspectives on key issues in K-12 education reform
WASHINGTON
(
March 23, 2017
)—Only three percent of influential black leaders think public schools are preparing black students to attend and graduate from college; however, the majority of leaders are optimistic they can help improve the quality of education for black students, according to a new report issued by UNCF's Frederick D. Patterson Research Institute (FDPRI).
"As the Every Student Succeeds Act implementation begins to move forward, there are various ways that black leaders can help shape education reform at the local and state levels," said Dr. Brian Bridges, co-author of the report and director of
FDPRI
. "
Lift Every Voice and Lead
is a call to action for black leaders to use their influence to not only highlight the crisis in education for black youth, but to also find tangible ways to get involved."
FDPRI researchers analyzed survey and interview data from more than 650 African American community leaders across the country: a group of clergy, local politicians, business leaders and education leaders often described as "grasstops." As the title suggests, this report urges black grasstops to lift their voices and lead advocacy efforts in the K-12 education space. Although nearly 80 percent of black grasstops feel black leaders in their communities are not doing enough to improve education, the report indicates that many leaders have, in fact, developed community-centered strategies to address disparities in schools—from hosting workshops for students and parents, to engaging with local school board leaders. Furthermore, the study finds that leaders want tools such as talking points, statistics on racial disparities, and advocacy toolkits to support their efforts in improving the quality of education for students.
"The implications of these findings are vast and help challenge assumptions about the lack of engagement of black leaders. Our report suggests that while some leaders think they are not doing enough, the majority sincerely want to make a positive difference in the lives and futures of black students," said Dr. Meredith B.L. Anderson, lead author of the report.
The report offers four recommendations for community leaders seeking to make improvements in education:
Expand community networks to further advocacy efforts.

Provide leaders with the tools to advocate for African American youth.

Champion the message of positive African American community engagement in education.

Make the ask for leaders to be involved. Leaders want to see a clear, action-oriented strategy in place.
Join UNCF's Q&A with Media today:
WHEN:
Thurs., March 23, 2 p.m. – 3 p.m. EST
WHO:
Cheryl Brown Henderson, daughter of the late Rev. Oliver Brown who was the plaintiff in Brown v. Board of Education.

Sekou Biddle, vice president of K-12 Advocacy

Meredith B.L. Anderson, Ph.D., K-12 Advocacy senior research associate; report's author

Naomi Shelton, UNCF director of K-12 Advocacy
JOIN:
Please RSVP to
mediarequests@uncf.org
by
1:00 p.m. EST
today. Conference call information will be provided upon RSVP.